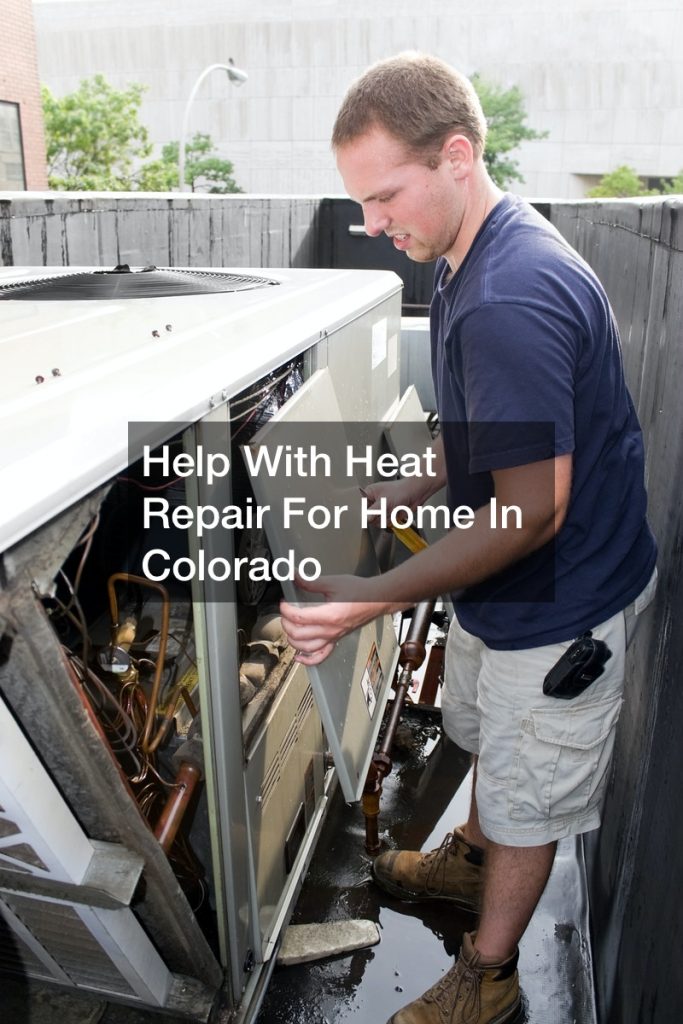 For many Americans heat repair for home is simply out of their range. Unfortunately, many working-class Americans fall in that category. Between the cost of daily needs for the family, the high cost of heating oil, transportation, health insurance, and other financial obligations American families find themselves unable to afford heat repair for home.
When something goes wrong with your heating system it can quickly turn into a life-threatening situation. How can homeowners find the help they need with heat repair for home? If they live in Colorado the help they need can be found at Energy Outreach Colorado.
Helping People Stay Warm
Heating repair can easily cost several hundred dollars if not more. If you a low-income homeowner that several hundreds of dollars may just not be in your budget. No one should have to decide between heat or food for the month.
Getting by on a shoestring budget does not leave a lot of room for heating and cooling systems emergencies. When the heating system goes down the panic often sets in. Energy Outreach Colorado helps low-income homeowners the resources that they need to get heat repair for home.
Energy Outreach Colorado has one very simple vision "all Coloradans are able to meet their energy needs." Founded in 1989 on the simple premise that no one should have to go without heating oil in the winter or have to deal with faulty equipment.
They are made up of a network of industry, local, and state partnerships. They have several programs under their banner that support the people of Colorado in paying for energy bills, heating repair, energy conservation, and energy education.
Continue reading to learn more about the programs that Energy Outreach Colorado has, how to apply for help, and how you can help support this great program.
Assistance With Bills
Energy Outreach Colorado will work directly with the vendor to pay the applicant's energy bills. The program is available to families and individuals that are at risk of losing their home heating energy because of past-due bills.
The eligibility criteria for this program is:
You must pay your bill directly to a vendor. In other words, if your heating costs are rolled into your rent, you are not eligible. You must be able to produce your billing information such as account number and amount owed.
You must apply for LEAP (typically available after November 1) and provide documentation that you did.
You must meet income guidelines. For example, a single-family member household in Jefferson County cannot exceed $4667 pre-tax dollars in income each month.
Energy Outreach Colorado will make payments directly to your utility company or to the fuel company on your behalf if you can meet the eligibility criteria above. Their goal is to help as many people as need it in any given season but there are times when funds run short. Get your application in as soon as you realize you are having a problem paying for your heating energy. You do not want to wait until the company is at your door to disconnect service or until your tank is completely empty.
This program will help you pay your heating oil bill, the electric bill, and other energy-related bills that need to be covered to ensure that you have heating.
Heating System Replacement or Repair
This program at Energy Outreach Colorado addresses a heating crisis. When heating and cooling systems go down leaving the homeowner without heat, Energy Outreach Colorado jumps to action.
They will arrange to have a certified HVAC contractor come out to provide heat repair for home or replace the entire system based on the contractor's recommendations. This can be a life-changing moment for low-income homeowners that would have to go without heat otherwise and risk further damage to their home and their health.
While they will not send a heating contractor out to maintain your system they will send them out to make heat repair for home. This is considered an emergency service and you will get help within 24 hours.
Under this program snow removal services are available to rural areas to ensure that the heating services and fuel truck can get to your home. Energy Outreach Colorado has really thought of everything!
How do you qualify for heat repair for home from Energy Outreach Colorado:
Your heating and cooling systems have to be not working. In other words, you are not getting any heat from the system.
You have to be eligible for LEAP.
This has to be your primary source of heat.
Again, this is a crisis intervention program that means you cannot get a heating tune-up to get better energy efficiency from your furnace.
This program can help you to get heat repair for home and potentially an entirely new heating system for free. There is a toll-free number you can call for more information about the program and eligibility requirements.
CARES Program
The Energy Outreach Colorado program not only pays energy bills and provides furnace service like heat repair for home, but they also help you get more bang for your energy bucks. The CARES program focuses on helping eligible families and individuals improve their energy efficiency through equipment replacement, education, and navigating rebate resources.
If your air conditioning and heating costs are getting out of control you can benefit from the CARES program. The free energy efficiency upgrades can help to lower your bills. You do not have to be a homeowner to take part in this program. Here are the eligibility requirements:
Live within a participating county.
Meet the income guidelines and get your energy from Xcel Energy, Atmos Energy, Holy Cross Energy, Black Hills Energy, San Miguel Power Association, Yampa Valley Electric Association, La Plata Electric Association, City of Gunnison Electric, Gunnison County Electric Association, Platte River Power Authority – Fort Collins, Loveland, Longmont, Estes Park.
Have your landlord sign a waiver if you are a tenant.
Energy Outreach Colorado is helping people reign in their energy costs with some simple upgrades like low flow faucets, insulation around doors and windows, and other upgrades that make a big difference in keeping your home energy efficient.
Education
Energy Outreach Colorado spends a lot of time educating consumers on ways they can lower their energy costs by doing simple things like unplugging electronics that are not being used. Energy Outreach Colorado can identify no-cost ways for you to get your energy bill in check. Take the Conservation Pledge right online to get started.
Here are some tips to help you get your energy costs down:
It is a myth that it is less expensive to leave the lights on when you leave a room for a little while. Get in the habit of turning off lights when you leave a room.
Energy vampires are everywhere. In this age of technology, we often leave charging cords plugged in even when our phones are not. Unplug the cord.
If you are leaving the house for the day, lower the thermostat to 65 and turn off the water heater.
Keep in mind that any appliance that generates heat will use a lot of energy. That means your lightbulbs, your water heater, your plugged-in printer. Check around the house for any appliances that are giving off heat and consider unplugging them when they are not in use.
Water heaters are well-known energy thieves. Your traditional water heater runs day and night to keep your water at a set temperature. That means even when you are not calling for hot water your water heater is working hard.
If you are going away for the weekend simply flip the circuit breaker for your water heater into the off position. You can even cut off your water heater if you are going to be at work all day. Simple steps like unplugging things that are not in use, lowering your thermostat by a few degrees, and flipping the switch to off on your water heater can shave about 20% or more off your energy bill.
Investing in a heating tune up can be a good way to lower costs and prevent breakdowns. A little maintenance can go a long way in helping extend the life of your system.
The best way to avoid heating and cooling repair costs is with prevention. Set a little money on the side each month to have your system professionally maintained.
Making energy conscious choices is a great way to lower costs and help conserve energy. You can learn more tips and tricks from the Energy Outreach Colorado group. They are there to help you save on your energy bill.
State Programs That Energy Outreach Colorado Can Help You Navigate
There are a couple of state programs that can help you get your energy costs under control the LEAP, helps with energy bills, and the Weatherization program helps to improve insulation and more to lower your energy costs. Energy Outreach Colorado can help you with your application process and provide you with information about each program.
Why This Program is So Important
Many of the people that have received help from Energy Outreach Colorado are elderly, disabled, and low-income workers that would not be able to afford heat repair for home. The people that receive help from Energy Outreach Colorado can continue to stay in their homes safely without worry.
Heating systems play a crucial role in not only keeping occupants safe but in keeping the other systems in the home safe. It is not unusual for pipes to freeze and burst when there are heating problems. Of course, this becomes another issue that the homeowner cannot afford to fix. With the help of this great organization, further damage is avoided and people are able to stay warm.
How Can You Help?
If you are interested in helping your neighbors across Colorado safe and warm this winter you can make a donation. You can easily donate right through your own energy bill every month. You can earmark a specific amount that will be billed along with your monthly energy bill and dedicated to Energy Outreach Colorado.
With a recurring monthly gift as small as $10 a month you can make a big difference in one of your Colorado neighbor's lives. It is a worthy cause that makes sure that your donation stays right in your community.
No One Should Go Without Heat
Unexpected expenses like heat repair for home can send many families and individuals into a financial tailspin. Many people are faced with fixing the heat or paying the mortgage. Of course, we all know what happens when we do not pay the mortgage.
The cost of energy increases by about 3.85% each year according to the Bureau of Labor Statistics. People on fixed incomes may see a cost of living increase of about half the 3.85%. It is not that people do not want to pay for energy costs it is that they just cannot keep up with the inflated costs for energy and heat repair for home.
Since 1967 the cost of energy has increased by 817% while incomes have only grown about 42%. It does not take a mathematician to see that income to energy ratio is not on par. The cost of energy continues to rise while incomes continue to make a slow walk up the ladder. For many people, the two increases will never even out.
If you need energy assistance and live in Colorado, help can be on its way relatively fast. Fill out the application and reach out for help with heat repair for home, energy bill assistance, or upgrades that will make your home more energy-efficient.
The United States is one of the richest countries in the world by income and resources. There is no reason anyone should have to go without heat. Programs like Energy Outreach Colorado are a grassroots effort that ensures that no one goes to bed cold at night because they need heat repair for home or because their energy bill is beyond their ability to pay.
If you are in a financial position to help your neighbors in Colorado just check the box on your energy bill when you pay it next month and be a part of the change for good. Energy Outreach Colorado is a worthy cause that is truly making a difference for so many people.